Reported by Karen Ann Carr
National Endowment for the Humanities is celebrating its 50th anniversary at the White House.

 Reported by Karen Ann Carr
This is the first self-portrait Whitten created. This is not a typical self portrait in that thefigure does not look directly like Whitten, but is shaped in the general form of a head. This figure is created by small abstract shapes and is contrasted by a black backdrop. By looking at this piece it is not obvious that it is a human-like form. Knowing that it is a self-portrait, however, what do you think Whitten is revealing about himself?
THE WHITE HOUSE
Friday, September 23, 2016
Reported by Karen Ann Carr
WASHINGTON, DC – In the morning, President Barack Obama and Vice President Joseph Biden received the Presidential Daily Briefing in the White House Oval Office at 10 AM.
          In the afternoon, President Obama met with Secretary of Defense Carter at 3:00 PM in the White House Oval Office. 
          From a White House Official: Today, President Obama met with Brendan Cox in the Oval Office, Brendan Cox is the husband of the late Jo Cox, the British Member of Parliament who was brutally murdered on June 16 after a meeting with her constituents in Birstall, United Kingdom.  "Mr. Cox was accompanied by his two children.  The visit was the result of an invitation President Obama extended to Mr. Cox and his family when he called him on June 17 to offer his sincere condolences on behalf of the American people." President Obama reminded Mr. Cox and his children that the "selfless service to others of their late mother had made the world a better place, and reaffirmed their shared commitment to carry on the legacy of her work."

White House Press Pool report by Tracy Jan
THE BOSTON GLOBE, Washington Bureau:
          Later in the afternoon, President Obama and First Lady Michelle Obama attended a reception for the opening of the Smithsonian's National Museum of African American History and Culture in the Grand Foyer at the White House. Seven Hundred and Fifty White House guests were treated to a rousing performance by the Tennessee State University marching band on the South Lawn. "Guests sipped champagne, wiped their brows under the hot sun, and shook their hips to the band's rendition of classics from Stevie Wonder's "Signed, Sealed, Delivered" to Snoop Dogg's "Gin & Juice." Getty photographer Chip Somodevilla spotted: "former Attorney General Eric Holder and his wife Sharon Malone, Harvard President Drew Gilpin Faust and her husband Charles Rosenberg, Jesse Jackson, New Orleans Mayor Mitch Landrieu, DNC Chair Donna Brazile, Senator David Perdue of Georgia, Rep. Al Green of Texas, Rep. Bobby Scott of Virginia, Rep. John Conyers of Michigan and many other members of the Congressional Black Caucus."

        White House Press Secretary Josh Earnest will convene a Press Briefing at 12:30 PM.
          In the evening the White House motorcade arrives at the Kennedy Center at 7:30 PM.
THE WHITE HOUSE
Friday, September 23, 2016
 Reported by Karen Ann Carr
WASHINGTON, DC -In the morning, the President will receive the Presidential Daily Briefing in the Oval Office.

Later in the morning, President Barack Obama will deliver remarks and award the 2015 National Medal of Arts and the National Humanities Medal to distinguished recipients in the White House East Room.

In the afternoon, President Obama and the First Lady will travel to the Smithsonian National Museum of African American History and Culture for an interview with ABC's Robin Roberts, where they will discuss the historic significance of the museum's opening.  This interview will air Friday morning on ABC's Good Morning America.
 Reported by Karen Ann Carr

WASHINGTON DC — As the National Endowment for the Humanities celebrates its 50th anniversary, President Barack Obama and First Lady Michelle Obama are honoring twelve distinguished humanities recipients in the East Room at the White House on Thursday, September 22, 2016.
The National Endowment for the Humanities was created as an independent federal agency in 1965. The National Council on the Humanities's advisory body is appointed by the President and Senate-confirmed to review nominations and provide recommendations to the President, who selects the distinguished recipients. The National Endowment for the Humanities manages the nomination process on behalf of the White House. Each year, The National Endowment for the Humanities invites medalist nominations from individuals and organizations across the country. "The National Endowment for the Humanities awards grants that support research, education, preservation, and public programs in the humanities."

"Since 1996, when the first National Humanities Medal was given, 175 individuals have been honored, inclusive of this year's recipients. Thirteen organizations have also received medals."
President Obama and the First Lady are honoring twelve distinguished recipients of the 2015 National Humanities Medal at the White House. The 2015 National Humanities Medal awardees include authors, a poet, a physician, a historian, a chef, and a higher education program.
President Obama will award the 2015 National Humanities Medals in conjunction with the National Medal of Arts during a White House ceremony on September 22. First Lady Michelle Obama will attend. The ceremony will stream live at WH.gov/live.edals
The National Humanities Medal, inaugurated in 1997, honors individuals or groups whose work has deepened the nation's understanding of the humanities and broadened our citizens' engagement with history, literature, languages, philosophy, and other humanities subjects. Up to 12 medals can be awarded each year.
*
*
Rudolfo Anaya, Author. For his pioneering stories of the American southwest.  His works of fiction and poetry celebrate the Chicano experience and reveal universal truths about the human condition—and as an educator, he has spread a love of literature to new generations. (Albuquerque, NM)
 José Andrés, Chef & Entrepreneur.  For cultivating our palates and shaping our culture. He has introduced new and vibrant ingredients to our Nation, whether through his innovative techniques in the kitchen, his work on clean cooking technology and access to education, or the inspiration he provides to new Americans. (Bethesda, MD)
Ron Chernow, Author. For bringing our Nation's story to life.  Through his examination of America's successful giants and titans, he also invites his readers to discover their failures and foibles, uncovering enduring lessons that inform our modern era. (Brooklyn, NY)
 
Louise Glück, Poet. For giving lyrical expression to our inner conflicts.  Her use of verse connects us to the myths of the ancients, the magic of the natural world, and the essence of who we are. (Cambridge, MA)
 
Terry Gross, Radio Host & Producer. For her artful probing of the human experience.  Her patient, persistent questioning in thousands of interviews over four decades has pushed public figures to reveal personal motivations behind extraordinary lives—revealing simple truths that affirm our common humanity (Philadelphia, PA)
 
Wynton Marsalis*, Composer & Musician. For celebrating the traditions of jazz music from New Orleans to Lincoln Center and beyond.  As a virtuoso trumpet player, composer, and educator, he has brought jazz to a wider audience and inspired music lovers to embrace America's quintessential sound. (New York, NY)
 
James McBride, Author. For humanizing the complexities of discussing race in America. Through writings about his own uniquely American story, and his works of fiction informed by our shared history, his moving stories of love display the character of the American family. (Lambertville, NJ)
Louis Menand, Author. For prose and essays that invite us to think in new ways about the forces shaping our society.  His influential works of intellectual and cultural history probe the power of ideas from one era to the next as they ripple across politics and culture. (Cambridge, MA)
 
Elaine Pagels, Historian & Author.  For her exploration of faith and its traditions.  Through her study of ancient manuscripts and other scholarly work, she has generated new interest and dialogue about our contemporary search for knowledge and meaning. (Princeton, NJ)
 
Prison University Project, Higher Education Program. For transforming the lives of incarcerated people through higher education.  Its programs offer opportunity and inspiration to their students, providing an example for others to emulate. (San Quentin, CA)
 
Abraham Verghese, Physician, Professor, & Author. For reminding us that the patient is the center of the medical enterprise.  His range of proficiency embodies the diversity of the humanities; from his efforts to emphasize empathy in medicine, to his imaginative renderings of the human drama. (Menlo Park, CA)
 
Isabel Wilkerson, Journalist & Author. For championing the stories of an unsung history.  Her masterful combination of intimate human narratives with broader societal trends allows us to measure the epic migration of a people by its vast impact on our Nation and on each individual life. (Atlanta, GA)
"In its 50th anniversary year, the National Endowment for the Humanities (NEH) announced $79 million in grants for 290 humanities projects and programs across the United States. The grants will be awarded in 14 humanities fields or areas and also include $42.8 million in annual operating support for the national network of state and local humanities councils."
The grants "support a wide range of efforts in the humanities. For example, Bowdoin College professor Matthew Klingle is one of 30 grantees in the Public Scholar program. Klingle will receive funding in support of scholarly research for "Sweet Blood," a forthcoming book geared to a general audience about the history of diabetes from the late 19th century to the present."
"In Hawaii, Bernice Pauahi Bishop Museum – which with 25 million objects in its holdings is one the largest resources for ethnological and biological studies about Hawaii and the Pacific Islands – received a grant to plan for improved environmental storage conditions of a collection of more than one million archaeological artifacts. And in Washington, DC, Women in Film & Video received a development grant for a forthcoming documentary about contributions of African-American diplomats during the Cold War."
In Wyoming, where the state humanities council received operating support, one of the council's signature programs is an ongoing series on the history of refugee resettlement in the state and the country. It features readings, discussions, and panelists made up of scholars and educators on the topic.
Next Generation PhD, a new grant program, is being awarded to 28 colleges and universities. These grants support a transformation of how PhD candidates in the humanities study for their degrees and are prepared for a broader range of careers at the conclusion of their often years-long, intensely academic graduate school experiences.
NEH is an independent federal agency that funds humanities projects in fields such as art history, literature, philosophy and archaeology. Created in 1965, NEH awards grants three times a year to top-rated proposals as examined by panels of independent reviewers.
"NEH grants help bring humanities experiences to Americans across the country," said Chairman William D. Adams. "Our funding supports museums, libraries and cultural institutions, and the local state councils that create and sustain humanities programs in their communities. Through films, original research, and new intellectual insights, our grants strengthen the nation's cultural fabric and identity."
Institutions, scholars, and humanities organizations in all 50 states, the District of Columbia and U.S. territories will receive NEH support.
A full list of grants by geographic location is available – click here for a PDF.
Grants were awarded in the following categories:
Collaborative Research — 14 grants totaling $3,058,839

Digital Humanities Implementation — 8 grants totaling $2,474,056

Institutes for Advanced Topics in the Digital Humanities — 4 grants totaling $787,084

Landmarks of American History and Culture: Workshops for School Teachers — 20 grants totaling $3,360,170.14

Media Projects: Development and Production — 11 grants totaling $2,230,000

Museums, Libraries, and Cultural Organizations Planning and Implementation — 15 grants totaling $3,245,000

National Digital Newspaper Program — 14 grants totaling $3,201,204

NEH On the Road — 7 grants totaling $7,000
Next Generation PhD: Planning and Implementation — 28 grants totaling $1,655,361

Public Scholar Program — 30 grants totaling $1,491,000

Scholarly Editions and Translations — 20 grants totaling $5,095,576

State Humanities Councils Annual General Operating Support — 55 grants totaling $42,838,230
Summer Seminars and Institutes for College and University  — 24 grants totaling $3,716,570.59
Summer Seminars and Institutes for School Teachers — 23 grants totaling $3,366,163.50

Sustaining Cultural Heritage Collections — 14 grants totaling $1,935,014
National Council on the Arts
History and Purpose
"The National Council on the Arts was established through the National Arts and Cultural Development Act of 1964, a full year before the federal agency was created by Congressional legislation. Its first members were appointed by President Lyndon Johnson and included noted artists such as Ralph Ellison, Paul Engle, Elizabeth Ashley, Gregory Peck, Oliver Smith, William Pereira, Minoru Yamasaki, George Stevens Sr., Leonard Bernstein, Agnes de Mille, David Smith, and Isaac Stern."
The National Endowment for the Arts was established through the "The National Foundation on the Arts and Humanities Act" of 1965 that empowered 26 citizens to serve as advisors to the agency as members of the National Council on the Arts. "Members are appointed by the President and approved by the Senate for six-year, staggered terms. "Congress has since enacted legislation that reduced the membership of the Council. Currently, there are 18 members of the National Council on the Arts and an additional six members of Congress to serve in an ex officio,non-voting capacity for two-year terms."
"The Presidential appointments, by law, are selected for their widely recognized knowledge of the arts or their expertise or profound interest in the arts. They have records of distinguished service or achieved eminence in the arts and are appointed so as to represent equitably all geographical areas of the country. Congressional members are appointed in the following manner: two by the Speaker of the House, one by the Minority Leader of the House, two by the Majority Leader of the Senate, and one by the Minority Leader of the Senate."
The National Council on the Arts "advises the Chairman of the National Endowment for the Arts, who also chairs the Council, on agency policies and programs. It reviews and makes recommendations to the Chairman on applications for grants, funding guidelines, and leadership initiatives."
The citations about the 2015 National Medal of Arts recipients will be read by the President at the awards ceremony. The citation is followed by each medalist's current place of residence.
*
Mel Brooks
Mel Brooks for a lifetime of making the world laugh. As a writer, director, actor, and musician, he pioneered the art of musical comedy, and his hilarious, thought-provoking work on film and in theater have earned him the rare distinction of winning Oscar, Emmy, Tony, and Grammy awards. (New York NY)
*
Sandra Cisneros
Sandra Cisneros for enriching the American narrative. Through her novels, short stories, and poetry, she explores issues of race, class, and gender through the lives of ordinary people straddling multiple cultures. As an educator, she has deepened our understanding of American identity. (San Antonio, TX)
*
Eugene O'Neill Theater Center
Eugene O'Neill Theater Center for its unwavering support of American theater. For over 50 years, the Eugene O'Neill Theater Center has nurtured award-winning playwrights, directors, and actors, enriched the craft of stage production, and delighted audiences with exceptional programs. (Waterford, CT)
*
Morgan Freeman
Morgan Freeman* for his outstanding work as an actor, director, and narrator. His iconic stage and screen performances have brought to life characters from the whole spectrum of the human experience, moving audiences around the world, and influencing countless young artists. (Charleston, MS)
*
Philip Glass
Philip Glass for his groundbreaking contributions to music and composition. One of the most prolific, inventive, and influential artists of our time, he has expanded musical possibility with his operas, symphonies, film scores, and wide-ranging collaborations. (New York, NY)
*
Berry Gordy
Berry Gordy for helping to create a trailblazing new sound in American music. As a record producer and songwriter, he helped build Motown, launching the music careers of countless legendary artists. His unique sound helped shape our Nation's story. (Los Angeles, CA)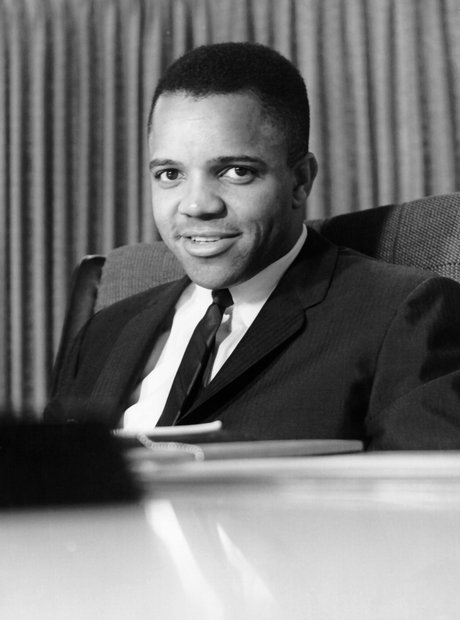 *
Santiago Jiménez, Jr.
Santiago Jiménez, Jr. for expanding the horizon of American music. He has helped spread traditional conjunto music, blending the sounds and cultures of south Texas and Mexico. His lively melodies performed on the two-button accordion have captivated audiences around the world. (San Antonio, TX)
*
Moises Kaufman
Moises Kaufman for his powerful contributions to American theater. His work sensitively probes questions of culture and sexuality. His award-winning Tectonic Theater Project continues to move audiences with its bold portrayals of contemporary social issues. (New York, NY)
*
Ralph Lemon
Ralph Lemon "for his contribution to dance and the visual arts. As a self-proclaimed conceptualist, he uses dance as a source of physical communication, and his complex works withstand examination from all angles, revealing intimate truths about human nature and offering broader insights into the American experience." (Brooklyn, NY)
[Lisa Paul Streitfeld Kulturindustrie Philosopher/Theorist  — "The paradigm leap to a new state of holism is a constant eternal aliveness sought by the centenarian Carter. As a stand-in for the public during our present time of transition — this "everyman" rooted to the American soil is more in touch with an emerging archetype than the artists and academics whose function it is to deliver us into new modes of relationship with ourselves and our culture. Lemon truly gets this, and his transparent embrace of the Heisenberg uncertainty principle is a leap in consciousness reflected in his video voiceover relating how he, as director, got out of the way to allow for the alchemical marriage, or conjunctio, to enter his creation through the numinous."]
~

"I am spending as much time as I can thinking around performance, the stage, visual art, the museum or gallery, video, film, writing… pure active contemplation and how I would like to be able to live in and between worlds as organically as possible."
"My creative process entails a vigorous collision of creative cultures and inspired conversations that dictate how the work is constructed, and how it will be shared with public audiences. I am always asking how can an intensive artistic research and immediate art-making process translate to the staged realm of a theater or gallery. This ongoing struggle between process and production creates a tension that is a vital element in all of my artistic work."
Ralph Lemon
*
Audra McDonald
Audra McDonald for lighting up Broadway as one of its brightest stars. An unforgettable performer, she has won six Tony awards. In musicals, concerts, operas, and the recording studio, her rich, soulful voice continues to take her audiences to new heights. (Croton-on-Hudson/New York, NY)
*
Luis Valdez
Luis Valdez for bringing Chicano culture to American drama. As a playwright, actor, writer, and director, he illuminates the human spirit in the face of social injustice through award-winning stage, film, and television productions. (San Juan Bautista, CA)
*
Jack Whitten
Jack Whitten for remaking the American canvas. As an abstract artist, he uses "casting," acrylic paints, and compounds to create new surfaces and textures, challenging our perceptions of shape and color. His powerful works of art put the American story in a new light. (New York, NY)
*
*
*
*
Named in honor of the Whitney's new address, 99 Gansevoort Street, 99 Objects is a series of in-gallery programs focusing on individual works of art from the Museum's collection on view in America Is Hard to See. Speakers include artists, writers, Whitney curators and educators, and an interdisciplinary group of scholars.
*
The National Council on the Arts –

Roles and Functions
The major areas in which The National Council on the Arts advises  the National Endowment for the Arts and its Chairman are:
"Applications for Federal grant funds recommended by advisory panels;
Guidelines outlining funding categories, objectives, and eligibility;
Leadership initiatives and partnership agreements with other agencies;
Agency budget levels, allocations, and funding priorities;
Policy directions involving Congressional legislation and other issues of importance to the arts nationally."
The National Council on the Arts also recommends individuals and organizations to receive the National Medal of Arts, a Presidential award in recognition of outstanding contributions to the arts in America.
Currently, The National Council on the Arts  convene for "one-day sessions three times per year, usually on Fridays in March, July, and October. Meetings are held at the Constitution Center in Washington, DC and are open to the public. The day before the National Council on the Arts meeting, the 26 members are: 1) briefed by the National Council on the Arts staff about the pending grant applications that they will consider, as well as the deliberations of the advisory panels that reviewed them. These informational briefing sessions are closed to the public, but the agendas are posted on the Web site."Currently there are 18 members of the National Council on the Arts and an additional six members of Congress to serve in an ex officio, non-voting capacity.
United Nations
President Obama's Last Address to the United Nations